In what has been whipsaw week on the forex, the Greenback is attempting to close it out on a positive note. With only a few hours left in the trading day, the EUR/USD (-0.29%), USD/CHF (+0.61%), and GBP/USD (-0.50%) are all trending in favor of the dollar. Primary drivers of the USD's bullish posture are early-2021 bumps in inflation and consumer sentiment.
Today's economic calendar was good for the U.S. dollar. Here's a quick look at the highlights:
Event                                                      Actual                    Projected              Previous
Core PPI (MoM, Feb.)                             2.5%                          2.6%                      2.0%
Core PPI (YoY, Feb.)                                0.2%                          0.2%                      1.2%
PPI (MoM, Feb.)                                       0.5%                          0.5%                      1.3%
PPI (YoY, Feb.)                                          2.8%                          2.7%                      1.7%
In short, the inflation picture continues to be cloudy. However, Core PPI from February rose from January, as did PPI (YoY, Feb.). This is a good sign, given the Fed's concerns over lagging inflation. If nothing else, unlimited QE and aggressive COVD-19 stimulus appear to be having their intended effects.
The headliner of this morning's economic data was the spike in consumer sentiment. The University of Michigan Consumer Sentiment Index (March) came in at 83.0, well above projections (78.5) and the previous release (76.8). Once again, this is good for the USD. At this point, it appears that consumers are gaining positivity as COVID-19 vaccines and government stimulus are being distributed to the public. It will be interesting to watch this figure as 2021 unfolds.
For the EUR/USD, the bears have dominated the action. However, rates are well off intraday lows (1.1909) and in the vicinity of 1.1950.
EUR/USD Rejects 38% Fibby
In a Live Market Update from Thursday, I outlined a shorting opportunity in the EUR/USD. The trade was a winner, cashing in for 40 pips as the market rejected the 38% retracement of the February/March range.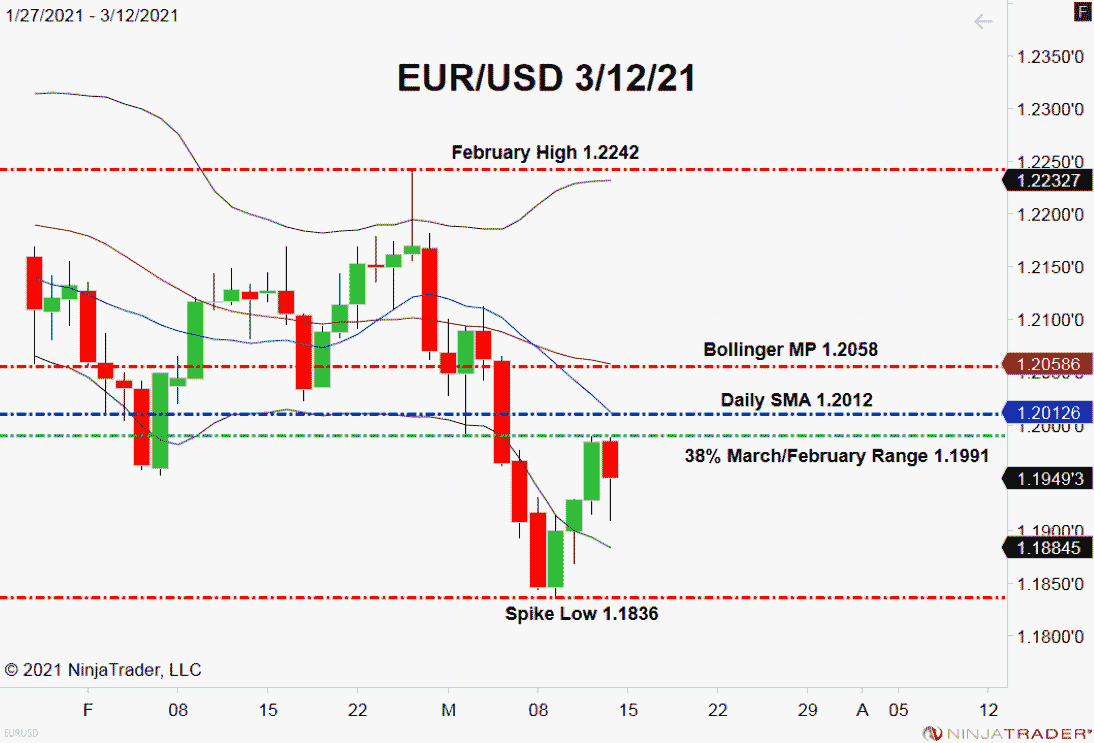 Overview: As we roll into next week's trade, the key number to watch in this market is 1.1991. If the EUR/USD continues trade beneath this level, a bearish bias is warranted; if it is taken out, a strong move to the upside may develop. With next week's Fed meeting soon to dominate the news cycle, it's anyone's guess where this pair will be trading next Friday.
Source: www.fxleaders.com